Kids love apps and games, and in today's advanced tech world it's literally impossible to keep them away from iPhones and iPads. Rather than limit their access to games, why not let them try out apps that are both entertaining and educational? Here are a few ideas:
Helicopter Taxi
Excellent for kids fond of transportation, Helicopter Taxi is an iOS app they'll adore. Featuring crisps graphics and a challenging gameplay, preschoolers will be delighted to navigate their own helicopter and enjoy the ride.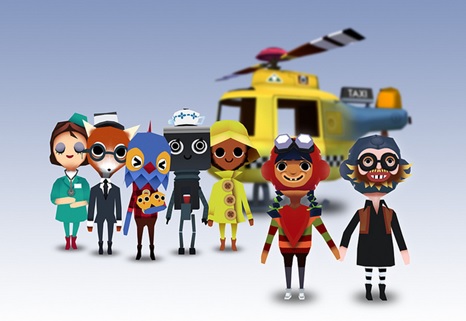 Toca Birthday Party
This super cute app is ideal for kids with ages between 3 and 7. It allows preschoolers throw their own birthday party using various themes, cake varieties, candles, and more.
Pocket Frogs
If your toddler loves amphibians, then he'll adore Pocket Frogs. In this app, the player trades, collects and breeds frogs; he can also customize their habits. It's n incredibly exciting iOS app for preschoolers who want to get create while having fun.
Cut the Rope
One of the coolest and most entertaining games on iOS, "Cut the Rope", is an excellent puzzler for kids. Simple at first but challenging in essence, this game becomes more challenging as you get to the next level. It might just awaken your child's passion for physics and math, so you should let them try it out.
Plants vs. Zombies
Players have a team of 50 plants, and they must use them to battle the 26 types of scary zombies. Incredibly addictive, fun to play, and packed with a lot of puzzling features, 'Plants vs. Zombies' will surely appeal to preschoolers searching for a cool iOS game to keep them engaged.
Jelly Car 2
The first "Jelly Car" game was a hit among preschoolers. It was hip and fun. Obviously, now there's a sequel available, which looks equally enticing. Featuring 30 catchy levels, Balloon abilities and Sticky Wheels, kids will love to try out this super cool problem-solving physics game.
My Sandwich Shop
An excellent app for kids who love food; allow your kids to make their own sandwiches, and teach them to serve them to clients. If you're dealing with picky eaters, "My Sandwich Shop" will surely make your little ones hungry.
Animal Kinderland
Sweet and educational, "Animal Kinderland" is an ideal app for kids who want to learn more about main types of animals. With more than 100 available choices, your preschoolers will love to play around with newborns and familiarize themselves with their habitat.
Drawing Pad
Does your child have an orientation toward arts and crafts? Then you should turn his iPad into a drawing board. With "Drawing Pad", kids can play around with all sorts of shapes and colors, brushes and crayons. A toddler's talent can surprise parents, so why not let yours use his imagination to create beautiful drawings?
Real Drums
Some kids love music so much, that they would just dance and sing all day long. "Real Drums" is exactly what your kid needs on a tablet or smartphone. All he has to do is tap to play. Simple, yet incredibly entertaining!
Bubble Popper
Breaking bubble wrap is something kids love to do. In fact, everyone loves bubble wrap. This app offers digital bubbles that blow up with a tap on a screen. If you're not pleased with the colors, you can always change them; and you can also change the appearance and size of the bubbles, just to switch things up a bit.
Kids should be allowed to play apps. Some of them are incredibly educational; others are fun, others are both. Apps don't just entertain, they also foster creativity and make kids want to learn more and do more. Find some more interesting games at Train Games 365.