Bathrooms can get grimy, lackluster and outdated pretty quickly. When things are off in this room, you can feel particularly displeased. Creating a more attractive space can offer many benefits, from giving you a nice boost in the morning during your usual grooming routine, to enhancing a sense of relaxation and well-being during your nice, hot shower at the end of a long, hard day. If your budget does not allow for a complete overhaul, here are just a few tips to help you create a more beautiful bathroom with limited funds. But before you start spending your money make sure you thoroughly clean your bathroom so you will see and know exactly which parts need improvement.
Carefully Consider What You Want and Need
This may seem pretty obvious, but many people go into remodeling projects without giving them the proper thought they deserve. This usually leads to a variety of problems, like being unhappy with the final result, spending more money than you should, or having to skimp on some things because you blew too much of your budget on something else.
Take a good look at your bathroom. What would you really like to change? What is your vision? What is working now that can stay as is, or just be improved upon a bit with a fresh coat of paint or a good cleaning?
Maybe the tiles are good for now, but you would really like to buy a new bathroom vanity so funnel your cash towards a really nice one rather than buying one that isn't as nice because you feel you must re-do everything else as well. Remember to be patient and that you don't need to do everything in one go.
By really evaluating the current state of the bathroom and deciding that not everything is so terrible and must go, you can really focus your efforts on the things that really need changing, and make the most of your budget.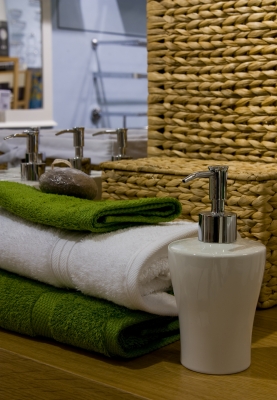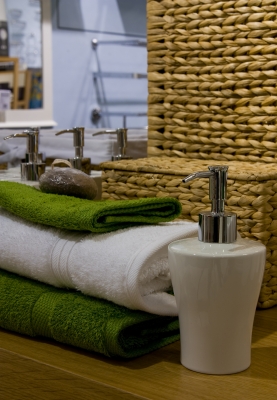 Small Things Can Make a World of Difference
You can really update your bathroom and make it look tons better by paying attention to some smaller fixes. These little touches, when added together, can alter the whole look and feel.  A bit of wainscoting, some updated fixtures, a new mirror, a painting or two, new drawer handles or changing up the towel rack are just a few suggestions.
Keep Tile to a Minimum
Tile can be one of the more expensive components of any bathroom remodel, and if you are trying to save money, it is a good idea to limit it. You can still have a beautiful bathroom without covering the entire bathroom. Maybe you can just do the floor, and one strip on the wall to make it pop, while painting the rest. Or, if you really want the whole shower tiled, consider getting some less expensive flooring. There is a huge array of vinyl flooring, for example, that looks great and comes in tons of colors and designs.
Focus on Redoing and Buying Used
Your tub or shower looking a bit worn? Buying a new one may not be in the cards, but having a professional reline it probably is. When it comes to fixtures, you will probably just want to buy new ones as refinishing tend to be more expensive, and is usually limited to people who have vintage items.
If you have vintage fixtures or an old porcelain tub, you can buy a refinishing kit and do it yourself provided they are made of porcelain, fiberglass or cast iron. You may need additional supplies if you don't already have them, such as a sander. If you are up to the task, you can find great tutorials on sites such as HGTV.
You can find great used items on Craiglist, Etsy and Ebay. If you have a Habitat for Humanity ReStore near you, you can find some great used items for the bathroom. Etsy is particularly good if you are looking for some creative items.