Kids are increasingly moving to Viber to make phone calls and send messages. Why? Well, for starters, it's absolutely free. A cell phone package program puts a dent on their pocket money. With Viber, they just need WiFi. This makes it accessible to literally anyone with a smartphone. What's more is that VIber is instant. As a parent, Viber should always be on your radar.
Why is Viber Monitoring Important?
Viber's got over 200 million users, and there's a good chance your kid is one of them. It's also  got instant messaging, which means kids spend hours on it chatting away when they could be doing better things.It's instant nature and accessibility only further a kid's  addiction to texting. To the point where they compromise their grades and sleep because they'd rather be on Viber all day.
To top it all, you can have group conversations on Viber, or send and receive multimedia, which makes sexting and exchanging nude photos that much easier. And here's the most dangerous reason to monitor VIber of them all—it makes talking to strangers very easy. Strangers that could be predators or cyber stalkers… real stalkers even.
So as a parent, you must have found a way to monitor their calls and texts. But do you know how  XNSPY  help you to spy Viber calls and texts? Let me bring you up to speed.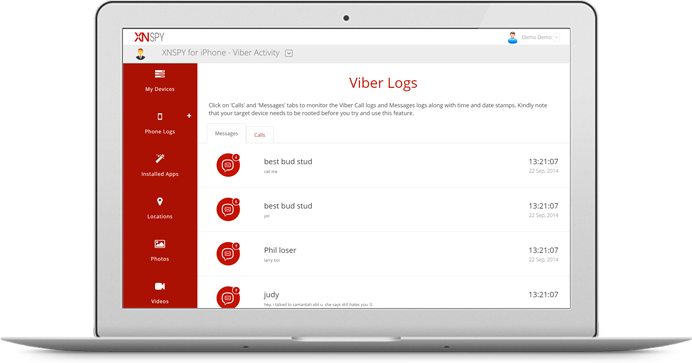 Step 1: Install XNSPY
XNSPY is a parental monitoring app that you can install in your kid's phone. It runs quietly in the background, so your kids wouldn't even know it's there. After that, you'd remotely be able to keep an eye on them from anywhere. You can read their texts, check their browser history and monitor their Viber, too. XNSPY has got two subscription packages—Basic and Premium. If you want to spy of Viber, the Premium Edition is for you. It's priced at $16.66, but you get a staggering 72% off if you get an annual subscription.
Installing XNSPY is quitehassle-free. Once you've bought the app, you'll get a handy installation manual emailed to you. It's fairly easy to follow, but if you don't understand a step or face technical issues, their helpful customer support will guide you through the installation process so you won't even have to lift a finger.
Step 2: Toggle Viber Monitoring On
XNSPY has a lot of different monitoring features. But if you're looking to spy on Viber, go to the XNSPY Control Panel. Here you'll see the list of features. Now simply scroll till you see the Viber feature and toggle it on. Now any time your kid sends or receives a Vibe call or message, the data will show up on this tab of the Control Panel.
This seems like an easy enough step, but a lot of people think their app isn't working properly when they've simply forgotten to turn a feature on. Don't make that mistake!
Step 3: Start Monitoring Viber!
And that's really it. Once you've toggled the feature on, all there's left to do is monitor. You'll get to check:
The Viber Call Log
The timestamp for when each call was made/received
Read all the messages
The timestamp for when each message was sent/received
Obtain names and numbers of Viber contacts
A great thing about XNSPY Viber monitoring is that you have the option to put certain words and contacts on the 'Watchlist'. This basically means that any time your child talks to a specific suspicious contact that you have specified, you'd be sent an instant alert on your email or through SMS. Similarly, if your kid uses or is sent a suspicious word that you have specified in the Watchlist, you're sent an instant alert. A lot of parents put in words like 'cigarette' or 'pot' or 'club' in the Watchlist, so they can know If their kids are planning on engaging in unlawful activities.
The Viber data will automatically be updated onto your Control Panel, so you don't have to do anything at all. Plus, the stored data is secure. So if you're a busy parent that doesn't have the time for real-time monitoring, you can just go through the Viber data during your free time. It really is quite convenient!
Monitoring Viber Has Never Been Easier!
So you see? Being able to spy Viber calls and texts of your kids really is an easy 3-step process. And it is completely worth if it helps you become a more responsible parent. A lot of parents have no idea the sorts of trouble their kids get into with IM messengers. It's almost as if the kids have a secret life hidden behind their smartphone or tablet screens. But by installing XNSPY, you can always be in the loop and take of your children's discipline and safety even better